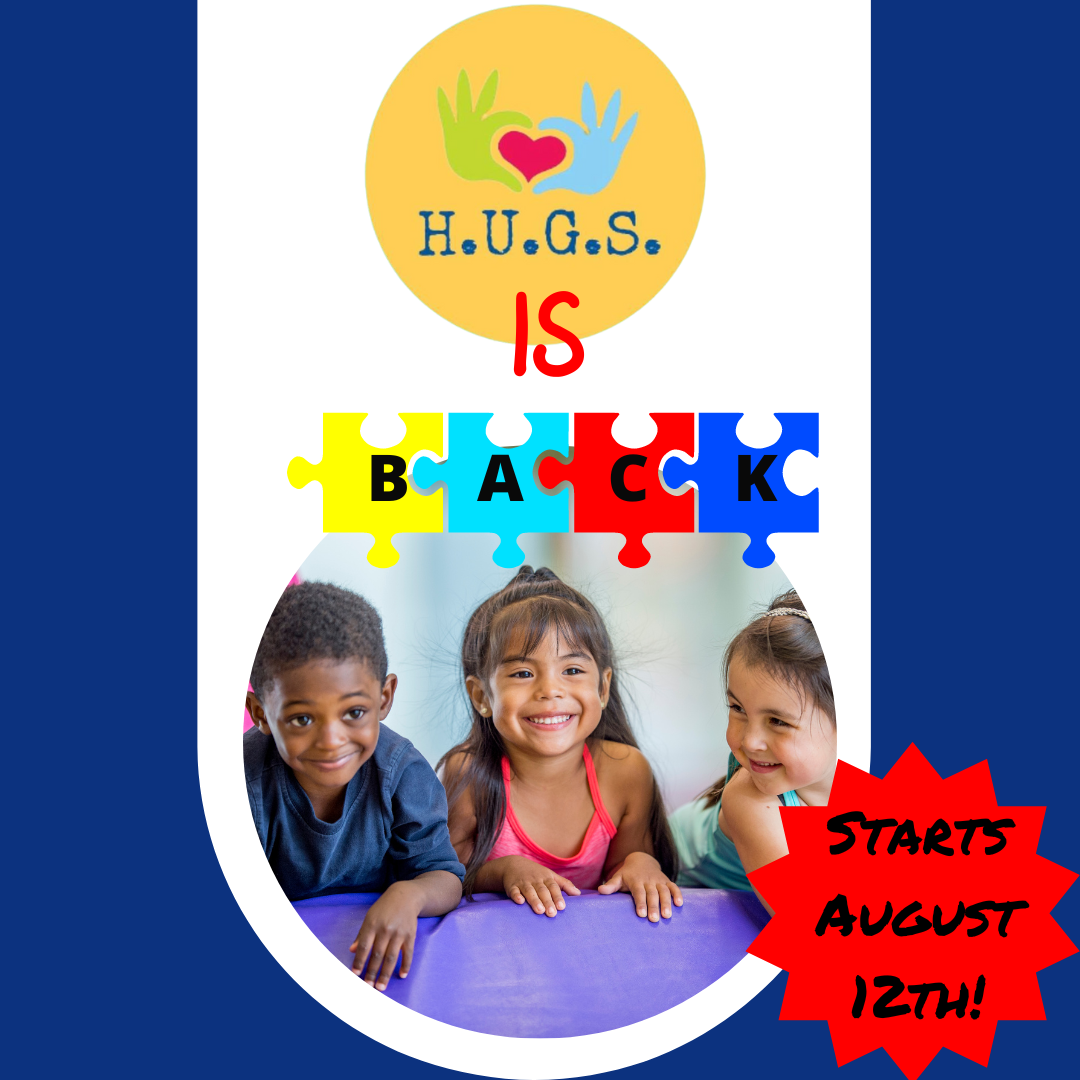 HUGS was developed by the United States Gymnastics Federation. This is an adaptive gymnastics program designed especially for special needs individuals of all ages.
The FREE program consists of training fun designed for athletes with Special Needs. Parents are welcome to stay and encouraged to participate or observe the program. Instruction is provided by certified Spirit Gymnastics coaches and volunteers trained to work with special needs children. Lakeland Regional Rehabilitation staff partners with us, providing occupational therapist as part of the program providing adaptive gymnastics therapy recommendations.
This program is designed to help special needs children to improve physical abilities, balance, coordination, strength, endurance, flexibility, environment to practice and learn social skills, and a place to build confidence with adaptive gymnastics, rhythmic gymnastics, parachute activities, bounce house and a wide array of games and activities for fun.
Through the HUGS Special Needs Program we have seen how the children become more verbal, improved direction following and learned to take turns through a rotation. Our athletes also develop close relationships with each other and their coaches. Children who are able to develop early relationships with peers have higher self-esteem, better mental health and greater levels of independence and more successful employment records as adults.
Participation Information
Spirit Gymnastics HUGS Special Needs Program is free to any special needs person.
Open to girls and boys.
Ages four through adult.
We ask parents and guardians to join their child on the gymnastics floor to ensure their safety. This allows our coaches to teach gymnastics skills while parents help us manage the students and help keep them focused. Our goal is to create and maintain a safe environment.
Participants and parents must have a waiver on file before participation on the gymnastics floor.
All participants must go on our Parent Portal and complete the parent's information, participant's information and waivers.
It is very important to keep our staff informed of any changes in your child's therapy, doctor's instructions or disruption in their day-to-day schedule that may affect them in the HUGS class.
Appropriate clothing for the class is a t-shirt, warm-up pants or shorts. No jewelry is allowed. Hair should be up, if possible, if it touches the student's shoulders. No socks or shoes are allowed on the floor. Cubbies are provided for socks and shoes.
Hugs is the 1st Friday of each month 6:40-7:30pm And does not run during the summer months of June, July, and August.
Join spirit Youth HUGS
Our HUGS program takes place the first Friday of each month from 6:40-7:30pm. The program runs from September thru May and is off during the summer months of June, July, and August. Click on the Parent Portal link above to register your athlete. Please be sure to complete the parent information, student information and waivers.
Each month, log on to your portal, click on the HUGS Camp Classes and select the Friday class your athlete will be attending.
Thank you to our generous sponsors!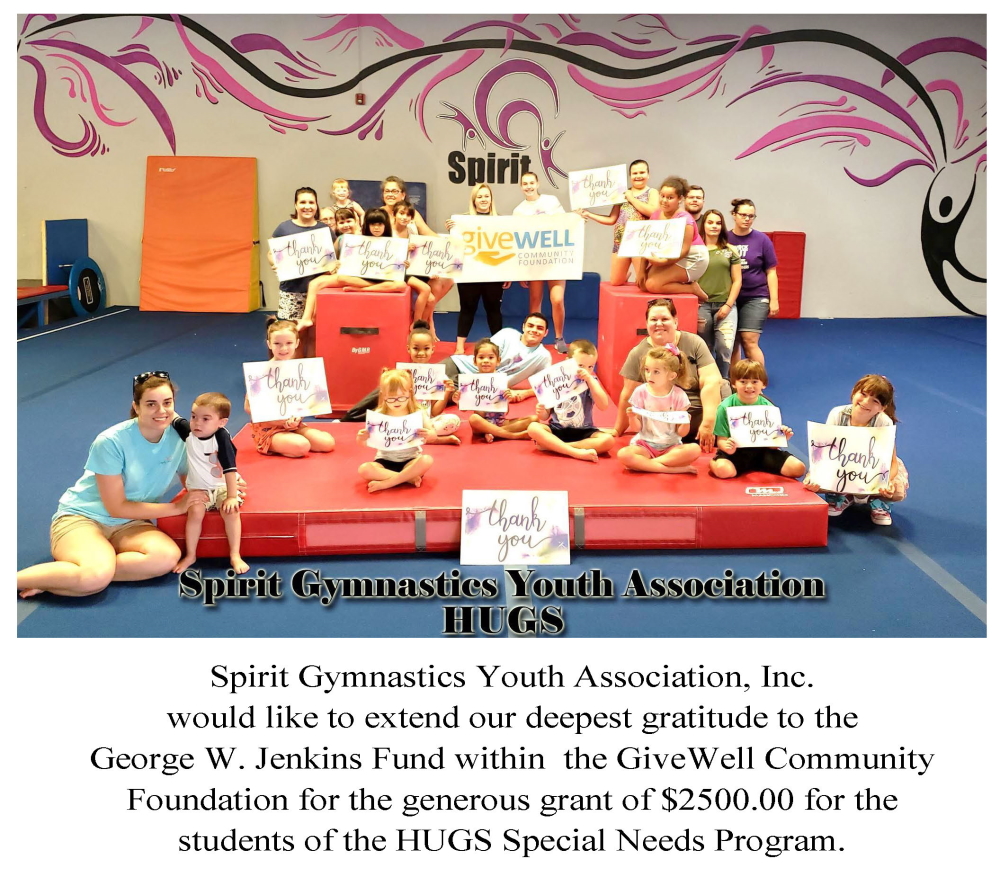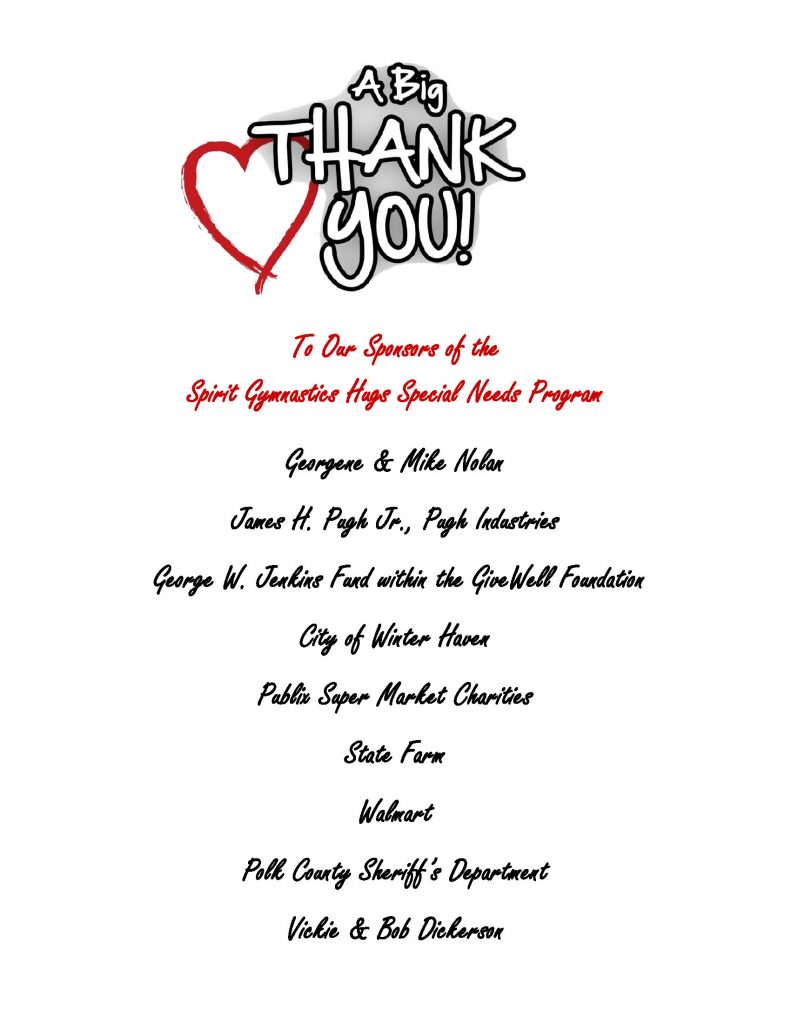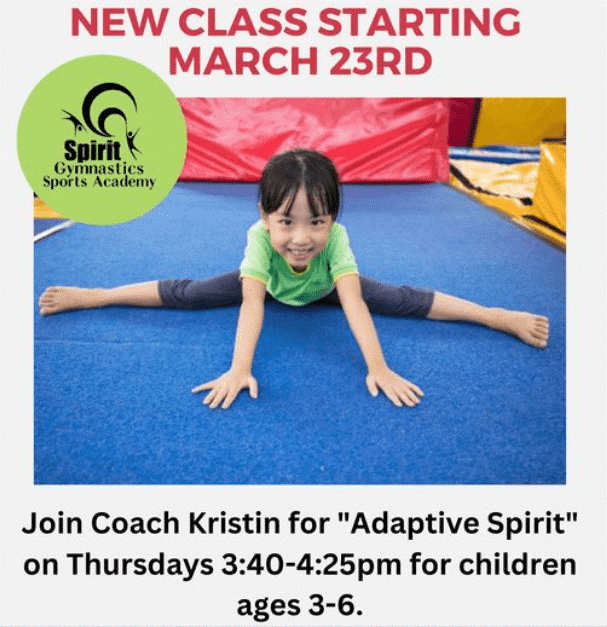 This program is provided through the Spirit Gymnastics Youth Association (501C3).